J Cancer 2021; 12(21):6320-6329. doi:10.7150/jca.62563 This issue
Research Paper
FAM83A Promotes the Proliferative and Invasive Abilities of Cervical Cancer Cells via Epithelial-Mesenchymal Transition and the Wnt Signaling Pathway
1. Department of Gynecology, Shenyang Women and Children's Hospital, Shenyang, China.
2. Department of Pathology, the First Hospital and College of Basic Medical Sciences, China Medical University, Shenyang, 110001, China.
* These two authors contributed equally to this work.

This is an open access article distributed under the terms of the Creative Commons Attribution License (https://creativecommons.org/licenses/by/4.0/). See http://ivyspring.com/terms for full terms and conditions.
Citation:
Lan C, Liu CC, Nie XC, Lei L, Xiao ZX, Li MX, Tang XN, Jia MY, Xu HT. FAM83A Promotes the Proliferative and Invasive Abilities of Cervical Cancer Cells via Epithelial-Mesenchymal Transition and the Wnt Signaling Pathway.
J Cancer
2021; 12(21):6320-6329. doi:10.7150/jca.62563. Available from
https://www.jcancer.org/v12p6320.htm
Abstract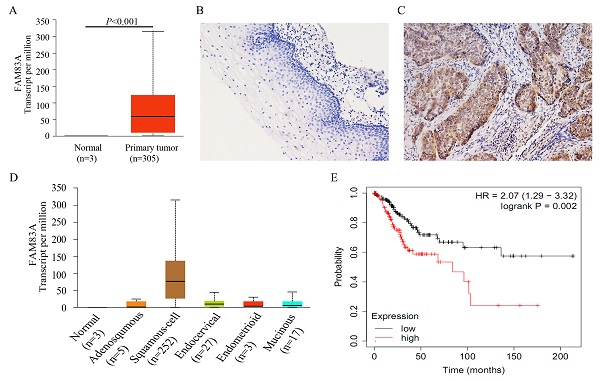 The family with sequence similarity 83, member A (FAM83A) gene is associated with the occurrence and development of many malignant tumors. Our aim was to explore the role of FAM83A in cervical cancer. FAM83A was overexpressed or knocked down in cervical cancer cells, and the expressions of FAM83A, key proteins involved in the epithelial-mesenchymal transition (EMT), and Wnt signaling pathway-related proteins were detected by western blot analysis. Cell proliferative and invasive abilities were also examined using cell proliferation, colony formation, and Matrigel invasion assays. Cells were treated with the Wnt pathway inhibitor XAV-939 to determine whether Wnt signaling was necessary for the effect of FAM83A on cervical cancer cells. FAM83A was highly expressed in cervical cancer tissues and was associated with differentiation, TNM stage, lymph node metastasis, and poor prognosis in patients with cervical cancer. Knockdown of FAM83A inhibited the proliferation, colony formation, and invasion of cervical cancer cells. The opposite results were observed in FAM83A-overexpressing cells, and FAM83A overexpression also promoted EMT and Wnt signaling. XAV-939 reversed the activation of Wnt signaling and EMT induced by FAM83A. In conclusion, FAM83A expression was increased in cervical cancers and correlated with poor prognosis of patients. FAM83A overexpression can activate the Wnt signaling pathway, facilitate EMT, and promote the proliferative and invasive abilities of cervical cancer cells.
Keywords: Family with sequence similarity 83, Cervical neoplasm, Squamous cell carcinoma, Wnt signaling pathway, Epithelial-mesenchymal transition