J Cancer 2021; 12(21):6372-6382. doi:10.7150/jca.62387 This issue
Research Paper
CD73 is a hypoxia-responsive gene and promotes the Warburg effect of human gastric cancer cells dependent on its enzyme activity
1. Department of Gastroenterology, the First Medical Center of Chinese PLA General Hospital, Beijing, China
2. Department of Hepato-Pancreato-biliary Surgery, the First Medical Center of Chinese PLA General Hospital, Beijing, China
3. Department of Global Health, Milken Institute School of Public Health, the George Washington University, Washington DC, USA
4. Department of Oncology, the Fifth Medical Center of Chinese PLA General Hospital, Beijing, China

This is an open access article distributed under the terms of the Creative Commons Attribution License (https://creativecommons.org/licenses/by/4.0/). See http://ivyspring.com/terms for full terms and conditions.
Citation:
Cao X, Zhu Z, Cao Y, Hu J, Min M. CD73 is a hypoxia-responsive gene and promotes the Warburg effect of human gastric cancer cells dependent on its enzyme activity.
J Cancer
2021; 12(21):6372-6382. doi:10.7150/jca.62387. Available from
https://www.jcancer.org/v12p6372.htm
Abstract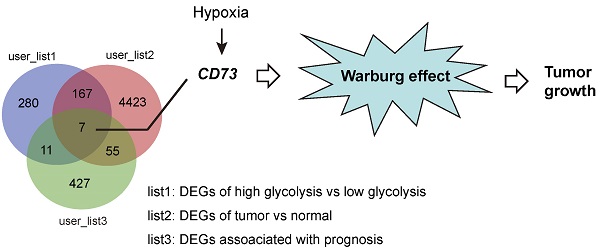 Background: The Warburg effect is closely associated with malignant phenotypes and poor prognosis in gastric cancer. CD73 is a glycosylphosphatidylinositol (GPI) anchored cell surface protein that functions as an oncogene in a variety of human cancers. However, the relationship between CD73 and the Warburg effect has yet to be fully understood.
Methods: Integrative analysis was performed to identify glycolysis-related genes in gastric cancer. Loss-of-function and gain-of-function are performed to demonstrate the roles of CD73 in gastric cancer cell proliferation and glycolysis. Cell biological, molecular, and biochemical approaches are used to uncover the underlying mechanism.
Results: In this study, we find that CD73 is a glycolysis-associated gene and is induced by hypoxia in gastric cancer. Genetic silencing of CD73 reduces gastric cancer cell proliferation and glycolytic ability. Opposite effects were observed by CD73 overexpression. Importantly, pharmacological inhibition of CD73 activity by APCP inhibits tumor growth, which can be largely compromised by the addition of adenosine, suggesting an enzyme activity-dependent effect of CD73 in gastric cancer. Furthermore, hijacking tumor glycolysis by 2-DG or galactose largely abrogated the oncogenic roles of CD73, indicating that CD73 promotes tumor growth in a glycolysis-dependent manner in gastric cancer. By the subcutaneous xenograft model, we confirmed the promotive roles of CD73 in regulating cell proliferation and glycolysis in gastric cancer.
Conclusions: This study provides strong evidence of the involvement of CD73 in the Warburg effect and indicates that it could be a novel antitumor strategy to target tumor metabolism in gastric cancer.
Keywords: CD73, Warburg effect, Gastric cancer, NT5E, Hypoxia