J Cancer 2021; 12(21):6383-6392. doi:10.7150/jca.54602 This issue
Research Paper
The anti-osteosarcoma effect from panax notoginseng saponins by inhibiting the G0 / G1 phase in the cell cycle and affecting p53-mediated autophagy and mitochondrial apoptosis
1. Department of Orthopedics, Renmin Hospital of Wuhan University, Wuhan, Hubei 430060, P.R. China
2. Department of Orthopedics, Hospital of Shenmu, Shenmu, Shaanxi, 719300, P.R. China

This is an open access article distributed under the terms of the Creative Commons Attribution License (https://creativecommons.org/licenses/by/4.0/). See http://ivyspring.com/terms for full terms and conditions.
Citation:
Han G, Zhang Y, Liu T, Li J, Li H. The anti-osteosarcoma effect from panax notoginseng saponins by inhibiting the G
0
/ G
1
phase in the cell cycle and affecting p53-mediated autophagy and mitochondrial apoptosis.
J Cancer
2021; 12(21):6383-6392. doi:10.7150/jca.54602. Available from
https://www.jcancer.org/v12p6383.htm
Abstract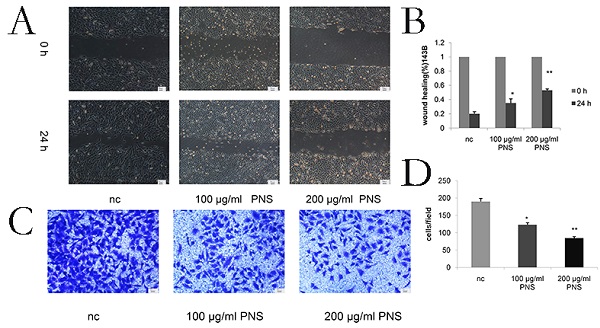 Osteosarcoma is the most common primary bone malignancy, and current chemotherapy sessions against it often induce severe complications in patients. Thus, it is necessary to develop new and effective antineoplastic agents with fewer side effects. Panax notoginseng saponins (PNS) are the active components in panax notoginseng and were reported to be capable of inhibiting the growth of several tumors both in vitro and in vivo. However, its effects on osteosarcoma have not been studied yet, which is addressed in this study for the first time. Our results indicated that PNS can inhibit proliferation, invasion and migration of the osteosarcoma cells, while promoting their apoptosis simultaneously. Specifically, PNS caused an increase in mitochondrial membrane potential and the amount of reactive oxygen species. The cell cycle in osteosarcoma cells was arrested in the G0 / G1 phase after PNS treatment. The expression of p53 and other apoptosis-related mitochondrial proteins were promoted. Nevertheless, it was observed that autophagy became less active in osteosarcoma cells when PNS was administered. In a word, PNS were of potential therapeutic significance for osteosarcoma.
Keywords: apoptosis, autophagy, panax notoginseng saponins, osteosarcoma, p53, G0 / G1 phase