J Cancer 2021; 12(21):6401-6410. doi:10.7150/jca.59283 This issue
Research Paper
L1CAM is not a reliable predictor for lymph node metastases in endometrial cancer, but L1CAM positive patients benefit from radiotherapy
1. Gynaecological Cancer Centre, Hospital for Women, University Hospital Basel and University of Basel, 4031 Basel, Switzerland.
2. Institute of Pathology, University Hospital Basel and University of Basel, 4031 Basel, Switzerland.
3. Ovarian Cancer Research, Department of Biomedicine, University Hospital Basel and University of Basel, 4031 Basel, Switzerland.
*The authors contributed equally to this work.

This is an open access article distributed under the terms of the Creative Commons Attribution License (https://creativecommons.org/licenses/by/4.0/). See http://ivyspring.com/terms for full terms and conditions.
Citation:
Zeiter D, Vlajnic T, Schötzau A, Heinzelmann-Schwarz V, Montavon C. L1CAM is not a reliable predictor for lymph node metastases in endometrial cancer, but L1CAM positive patients benefit from radiotherapy.
J Cancer
2021; 12(21):6401-6410. doi:10.7150/jca.59283. Available from
https://www.jcancer.org/v12p6401.htm
Abstract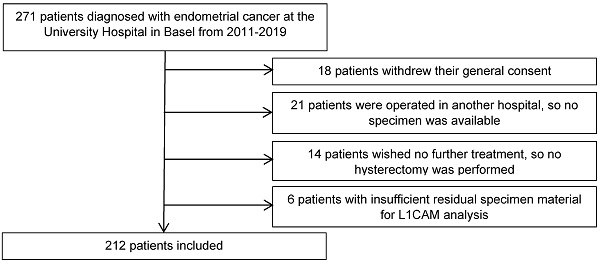 Purpose: Several studies evidenced the potential of L1CAM as a prognostic marker in endometrial cancer. The aim of this study was to investigate whether L1CAM can predict lymph node metastasis and could therefore be used preoperatively to identify patients with low to high-intermediate risk endometrial cancer who would profit from a lymphadenectomy and an adjuvant treatment. To avoid unnecessary morbidity, de-escalating strategies are still required.
Methods: Immunohistochemistry for L1CAM was performed on curettage or hysterectomy specimens from 212 patients diagnosed with endometrial cancer who were treated at the University Hospital Basel during 2011-2019. L1CAM expression was correlated with clinicopathological features such as histological subtype, FIGO stage, lymph node metastasis, lymphadenectomy, adjuvant treatment and outcome.
Results: Using a cut off ≥10%, L1CAM was positive in 41/212 patients (19.3%) and negative in 171/212 patients (80.7%). L1CAM was associated with high-risk features such as non-endometrioid histology, high tumour grade, and high FIGO stage. There was no significant correlation between L1CAM expression and lymph node metastasis. However, patients with L1CAM positive tumours showed improved disease-specific survival if treated with adjuvant radiotherapy.
Conclusion: Although L1CAM expression pointed towards aggressive tumour biology, preoperative L1CAM analysis did not add any substantial predictive information regarding lymph node metastasis in low to high-intermediate risk groups. Therefore, L1CAM status is not suitable to tailor the surgical algorithm for lymph node staging. Nevertheless, our results suggest that L1CAM could be used as a predictive biomarker to select patients who may benefit the most from adjuvant radiotherapy.
Keywords: L1CAM, lymph node metastasis, endometrial cancer, adjuvant therapy, survival