J Cancer 2021; 12(22):6773-6786. doi:10.7150/jca.61107 This issue
Review
Endometriosis-associated Ovarian Clear Cell Carcinoma: A Special Entity?
1. Department of Gynecology and Obstetrics, Tianjin Medical University General Hospital, Tianjin, 300052, China.
2. Tianjin Key Laboratory of Female Reproductive Health and Eugenics, Tianjin, 300052, China.

This is an open access article distributed under the terms of the Creative Commons Attribution License (https://creativecommons.org/licenses/by/4.0/). See http://ivyspring.com/terms for full terms and conditions.
Citation:
Sun Y, Liu G. Endometriosis-associated Ovarian Clear Cell Carcinoma: A Special Entity?.
J Cancer
2021; 12(22):6773-6786. doi:10.7150/jca.61107. Available from
https://www.jcancer.org/v12p6773.htm
Abstract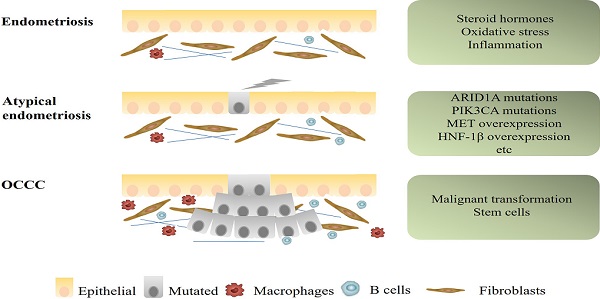 Endometriosis is an estrogen-dependent disease, which serves as a precursor of ovarian cancer, especially clear cell carcinoma (OCCC) and endometrial carcinoma. Although micro-environmental factors such as oxidative stress, immune cell dysfunction, inflammation, steroid hormones, and stem cells required for malignant transformation have been found in endometriosis, the exact carcinogenic mechanism remains unclear. Recent research suggest that many putative driver genes and aberrant pathways including ARID1A mutations, PIK3CA mutations, MET activation, HNF-1β activation, and miRNAs dysfunction, play crucial roles in the malignant transformation of endometriosis to OCCC. The clinical features of OCCC are different from other histological types. Patients usually present with a large, unilateral pelvic mass, and occasionally have thromboembolic vascular complications. OCCC patients are easier to be resistant to chemotherapy, have a worse prognosis, and are usually difficult to treat. To improve the survival of OCCC patients, it is necessary to better understand its specific carcinogenic mechanism and explore new treatment strategy, including molecular target.
Keywords: endometriosis, ovarian clear cell carcinoma, malignant transformation, clinical features