A note on plagiarism (please read before submission): There is a zero-tolerance policy towards plagiarism (including self-plagiarism) in this journal. Manuscripts are screened for plagiarism before, during, and after publication, and if found they will be rejected at any stage of processing. See ...

Latest Impact Factor 3.249. Congratulations!

Oncomedicine now accepts submissions.
Cover suggestion ...details
Top cited papers:
Inhaled therapy for lung cancer is a local form of treatment. Currently inhaled non-specific cytotoxic agents have been evaluated as a future treatment for local disease control and distant metastasis control. There are few information regarding the influence of local transporters and gene expression of the respiratory epithelium to the absorption of administered drugs. In the current work we used adenoviral-type 5(dE1/E3) (Cytomegalovirus promoter) with human ABCA10 transgene (Ad-h-ABCA10) purchased from Vector Labs® in order to investigate whether gene therapy can be used as a pre-treatment to enhance the efficiency of inhaled cisplatin. More ...
Background: Expression of programmed death ligand (PD-L1/B7-H1/CD274) represents a mechanism of immune escape for renal cell carcinoma (RCC) cells. Drugs blocking PD-L1 or its receptor are in clinical development and early data suggests that tumor PD-L1 expression may predict response. Patients and Methods: A tissue microarray (TMA) consisting of four biopsy cores from 34 matched pairs of nephrectomy and metastatic sites of clear cell RCC was used to assess PD-L1 expression by quantitative immunofluorescence. Assessment of intra- and inter-tumor heterogeneity and primary and metastatic tumor expression was performed using a method of Automated Quantitative Analysis (AQUA). More ...
Background: Infections of teeth are highly prevalent, often leading to tooth extractions. Missing teeth can thus be considered as proxy for chronic dental infections, caries or periodontitis. We followed-up a cohort for 24 years investigating the association between missing teeth and the incidence of cancer with the hypothesis that dental chronic inflammation links to cancer. Methods: WHO ICD-7-9-10 malignant diagnoses were recorded from the Swedish Cancer Registry from 1985 to 2009 in 1 390 individuals who had underwent clinical oral examination in 1985. The subjects appeared periodontally healthy and thus the probable reason for tooth extractions was deep caries. More ...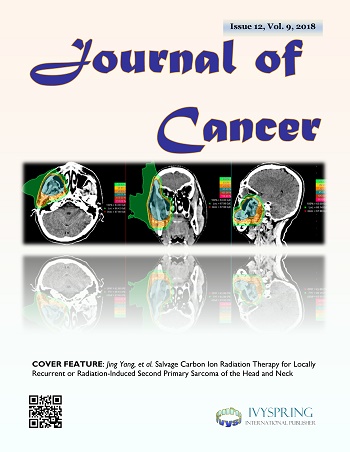 Research Paper
Deciphering Microenvironment of NSCLC based on CD8+ TIL Density and PD-1/PD-L1 Expression
Ziying Lin, Jincui Gu, Xiaoxian Cui, Lixia Huang, ShaoLi Li, Jinlun Feng, Baomo Liu, Yanbin Zhou
J. Cancer 2019; 10(1): 211-222. doi:10.7150/jca.26444
[Abstract] [Full text] [PDF]
Research Paper
Professional Oral Health Care at General Dental Clinic Reduces Postoperative Complications of Head and Neck Free-Flap Reconstruction Surgery
Masatoshi Usubuchi, Kazuto Matsuura, Takahiro Goto, Yukinori Asada, Takayuki Imai, Takenori Ogawa, Kengo Kato, Shigeru Saijo
J. Cancer 2019; 10(1): 205-210. doi:10.7150/jca.26298
[Abstract] [Full text] [PDF]
Research Paper
Neoadjuvant Chemoradiation Treatment for Resectable Esophago-Gastric Cancer: A Systematic Review and Meta-Analysis
Xiangyu Meng, Lu Wang, Yan Zhao, Bo Zhu, Ting Sun, Tao Zhang, Xiaohu Gu, Zhichao Zheng
J. Cancer 2019; 10(1): 192-204. doi:10.7150/jca.25915
[Abstract] [Full text] [PDF]
Research Paper
Additional Chemotherapy with 5-FU plus Leucovorin between Preoperative Chemoradiotherapy and Surgery Improved Treatment Outcomes in Patients with Advanced Rectal Cancer
Song Ee Park, Jin Hwa Choi, Chang Hwan Choi, Suk Won Park, Beon Gyu Kim, Seong Jae Cha, In Gyu Hwang
J. Cancer 2019; 10(1): 186-191. doi:10.7150/jca.25366
[Abstract] [Full text] [PDF]
Research Paper
High expression of MiR-98 is a good prognostic factor in acute myeloid leukemia patients treated with chemotherapy alone
Ning Hu, Zhiheng Cheng, Yifan Pang, Hongmian Zhao, Li Chen, Chao Wang, Tong Qin, Qianyu Li, Yu Han, Jinlong Shi, Lin Fu
J. Cancer 2019; 10(1): 178-185. doi:10.7150/jca.26391
[Abstract] [Full text] [PDF]
Research Paper
Modern Radiation Further Improves Survival in Non-Small Cell Lung Cancer: An Analysis of 288,670 Patients
Monica Cheng, Shruti Jolly, William O. Quarshie, Nirav Kapadia, Fawn D. Vigneau, Feng-Ming (Spring) Kong
J. Cancer 2019; 10(1): 168-177. doi:10.7150/jca.26600
[Abstract] [Full text] [PDF]
Research Paper
LXRα Promotes the Differentiation of Human Gastric Cancer Cells through Inactivation of Wnt/β-catenin Signaling
Yu Gao, Zihua Chen, Ran Wang, Xiangzhou Tan, Changhao Huang, Guanyang Chen, Zhikang Chen
J. Cancer 2019; 10(1): 156-167. doi:10.7150/jca.28600
[Abstract] [Full text] [PDF]
Research Paper
A Functional 5'-UTR Polymorphism of MYC Contributes to Nasopharyngeal Carcinoma Susceptibility and Chemoradiotherapy Induced Toxicities
Zhen Guo, Youhong Wang, Yu Zhao, Yi Jin, Liang An, Heng Xu, Zhaoqian Liu, Xiaoping Chen, Honghao Zhou, Hui Wang, Wei Zhang
J. Cancer 2019; 10(1): 147-155. doi:10.7150/jca.28534
[Abstract] [Full text] [PDF]
Research Paper
Crosstalk between Fisetin-induced Apoptosis and Autophagy in Human Oral Squamous Cell Carcinoma
Bong-Soo Park, Nak-Eun Choi, Ji Hye Lee, Hae-Mi Kang, Su-Bin Yu, Hye-Jin Kim, Hyun-Kyung Kang, In-Ryoung Kim
J. Cancer 2019; 10(1): 138-146. doi:10.7150/jca.28500
[Abstract] [Full text] [PDF]
Research Paper
Prognostic Value of PDZ-Binding Kinase/T-LAK Cell-Originated Protein Kinase (PBK/TOPK) in Patients with Cancer
Yi Zhang, Xianjin Yang, Rong Wang, Xu Zhang
J. Cancer 2019; 10(1): 131-137. doi:10.7150/jca.28216
[Abstract] [Full text] [PDF]
Research Paper
Incidence of Ipilimumab-Related Serious Adverse Events in Patients with Advanced Cancer: A Meta-Analysis
Chang-Ying Guo, Si-Cong Jiang, Yu-Kang Kuang, Hao Hu
J. Cancer 2019; 10(1): 120-130. doi:10.7150/jca.28120
[Abstract] [Full text] [PDF]
Research Paper
Prognostic Value of the Nutritional Risk Screening 2002 Scale in Metastatic Gastric Cancer: A Large-Scale Cohort Study
Yuan-Fang Li, Run-Cong Nie, Ting Wu, Shu-Man Li, Shi Chen, Wei Wang, Xiao-Jiang Chen, Guo-Ming Chen, Ying-Bo Chen, Zhi-Wei Zhou, Shu-Qiang Yuan
J. Cancer 2019; 10(1): 112-119. doi:10.7150/jca.27729
[Abstract] [Full text] [PDF]
Review
Tuning the Protein Phosphorylation by Receptor Type Protein Tyrosine Phosphatase Epsilon (PTPRE) in Normal and Cancer Cells
Jinping Liang, Jun Shi, Na Wang, Hui Zhao, Jianmin Sun
J. Cancer 2019; 10(1): 105-111. doi:10.7150/jca.27633
[Abstract] [Full text] [PDF]
Research Paper
Molecular Mechanism of Anti-Cancer Activity of the Nano-Drug C-PC/CMC-CD59sp NPs in Cervical Cancer
Liangqian Jiang, Yujuan Wang, Feng Zhu, Guoxiang Liu, Huihui Liu, Huanhuan Ji, Shuhua Zheng, Bing Li
J. Cancer 2019; 10(1): 92-104. doi:10.7150/jca.27462
[Abstract] [Full text] [PDF]
Research Paper
The Hemoglobin, Albumin, Lymphocyte, and Platelet (HALP) Score is a Novel Significant Prognostic Factor for Patients with Metastatic Prostate Cancer Undergoing Cytoreductive Radical Prostatectomy
Yadong Guo, Donghui Shi, Junfeng Zhang, Shiyu Mao, Longsheng Wang, Wentao Zhang, Ziwei Zhang, Liang Jin, Bin yang, Lin Ye, Xudong Yao
J. Cancer 2019; 10(1): 81-91. doi:10.7150/jca.27210
[Abstract] [Full text] [PDF]
Research Paper
In-hospital Mortality after Surgical Resection in Hepatocellular Carcinoma Patients with Portal Vein Tumor Thrombus
Xiu-Ping Zhang, Yu-Zhen Gao, Zhen-Hua Chen, Kang Wang, Yu-Qiang Cheng, Wei-Xing Guo, Jie Shi, Cheng-Qian Zhong, Fan Zhang, Shu-Qun Cheng
J. Cancer 2019; 10(1): 72-80. doi:10.7150/jca.27102
[Abstract] [Full text] [PDF]