A note on plagiarism (please read before submission): There is a zero-tolerance policy towards plagiarism (including self-plagiarism) in this journal. Manuscripts are screened for plagiarism before, during, and after publication, and if found they will be rejected at any stage of processing. See ...
Cover suggestion ...details
Top cited papers:
Deregulated Wnt signaling initiates most cases of colorectal cancer (CRC). Butyrate, a product of dietary fiber, hyperactivates Wnt signaling, resulting in induction of CRC cell apoptosis, which may in part explain the protective action of fiber. Nonsense mediated decay (NMD) of mRNAs containing premature stop codons (PTCs) affects tumorigenesis and upregulates Wnt signaling in human embryonic stem cells. . More ...
Yes Associated Protein 1 (YAP) and Transcriptional coactivator with PDZ-Binding Motif (TAZ) have gained notoriety for their ability to drive tumor initiation and progression in a wide variety of cancers, including melanoma. YAP and TAZ act as drivers of melanoma through its interaction with the TEAD family of transcription factors. Verteporfin is a benzoporphyrin derivative that is used clinically for photodynamic treatment of macular degeneration. . More ...
Background: Infections of teeth are highly prevalent, often leading to tooth extractions. Missing teeth can thus be considered as proxy for chronic dental infections, caries or periodontitis. We followed-up a cohort for 24 years investigating the association between missing teeth and the incidence of cancer with the hypothesis that dental chronic inflammation links to cancer. Methods: WHO ICD-7-9-10 malignant diagnoses were recorded from the Swedish Cancer Registry from 1985 to 2009 in 1 390 individuals who had underwent clinical oral examination in 1985. The subjects appeared periodontally healthy and thus the probable reason for tooth extractions was deep caries. More ...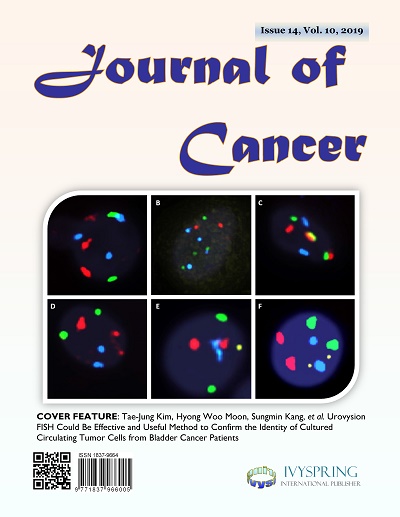 Research Paper
Adenosquamous Carcinoma of the Stomach: A Population-based Study from the SEER Database
Yugang Ge, Linling Lin, Xiang Ma, Dakui Luo, Liang Shi, Mingkun Jiang, Hao Fan, Yu He, Li Yang, Zekuan Xu
J. Cancer 2019; 10(23): 5705-5713. doi:10.7150/jca.29162
[Abstract] [Full text] [PDF]
Research Paper
Comprehensive investigation of key biomarkers and pathways in hepatitis B virus-related hepatocellular carcinoma
Xiwen Liao, Tingdong Yu, Chengkun Yang, Ketuan Huang, Xiangkun Wang, Chuangye Han, Rui Huang, Xiaoguang Liu, Long Yu, Guangzhi Zhu, Hao Su, Wei Qin, Jianlong Deng, Xianmin Zeng, Bowen Han, Quanfa Han, Zhengqian Liu, Xin Zhou, Junqi Liu, Yizhen Gong, Zhengtao Liu, Jianlv Huang, Lei Lu, Xinping Ye, Tao Peng
J. Cancer 2019; 10(23): 5689-5704. doi:10.7150/jca.31287
[Abstract] [Full text] [PDF]
Research Paper
Panx1 promotes invasion-metastasis cascade in hepatocellular carcinoma
Guangjun Shi, Chuanliang Liu, Yiming Yang, Liwei Song, Xueni Liu, Chuanxu Wang, Zhihai Peng, Hao Li, Lin Zhong
J. Cancer 2019; 10(23): 5681-5688. doi:10.7150/jca.32986
[Abstract] [Full text] [PDF]
Research Paper
Overexpression of miR-4433 by suberoylanilide hydroxamic acid suppresses growth of CML cells and induces apoptosis through targeting Bcr-Abl
Haiyan Wu, Jingyi Yin, Zhengdong Ai, Guiming Li, Yan Li, Li Chen
J. Cancer 2019; 10(23): 5671-5680. doi:10.7150/jca.34972
[Abstract] [Full text] [PDF]
Research Paper
Neoadjuvant Chemotherapy Plays an Adverse Role in the Prognosis of Grade 2 Breast Cancer
Xudong Zhu, Jinqi Xue, Xi Gu, Guanglei Chen, Fangning Cao, Huilian Shan, Dan Wang, Xinbo Qiao, Caigang Liu, Yixiao Zhang
J. Cancer 2019; 10(23): 5661-5670. doi:10.7150/jca.33168
[Abstract] [Full text] [PDF]
Research Paper
Sanbo Scoring System, Based on Age and Pre-treatment Hematological Markers, is a Non-invasive and Independent Prognostic Predictor for Patients with Primary Glioblastomas: A Retrospective Multicenter Study
Peng-fei Wang, Jianbin Zhang, Hong-qing Cai, Zhe Meng, Chun-jiang Yu, Shou-wei Li, Jing-hai Wan, Chang-Xiang Yan
J. Cancer 2019; 10(23): 5654-5660. doi:10.7150/jca.33047
[Abstract] [Full text] [PDF]
Research Paper
Effect of lymph nodes count in node-positive gastric cancer
Wenjie Zhang, Guangyan Zhangyuan, Jincheng Wang, Kangpeng Jin, Yang Liu, Fei Wang, Weiwei Yu, Haitian Zhang, Guoqiang Li, Decai Yu, Huihui Chen, Qingxiang Xu, Beicheng Sun
J. Cancer 2019; 10(23): 5646-5653. doi:10.7150/jca.30979
[Abstract] [Full text] [PDF]
Research Paper
Histone deacetylase inhibition up-regulates MHC class I to facilitate cytotoxic T lymphocyte-mediated tumor cell killing in glioma cells
Ting Sun, Yanyan Li, Wei Yang, Haibin Wu, Xuetao Li, Yulun Huang, Youxin Zhou, Ziwei Du
J. Cancer 2019; 10(23): 5638-5645. doi:10.7150/jca.34471
[Abstract] [Full text] [PDF]
Research Paper
Disease-specific haptoglobin-β chain N-glycosylation as biomarker to differentiate non-small cell lung cancer from benign lung diseases
Tianjing Chen, Chengyan He, Mo Zhang, Xiaoou Li, Xiaofeng Liu, Yujie Liu, Dan Zhang, Zhili Li
J. Cancer 2019; 10(23): 5628-5637. doi:10.7150/jca.32690
[Abstract] [Full text] [PDF]
Research Paper
High Serum Lactate Dehydrogenase adds Prognostic Value to Cardiac Biomarker Staging System for Light Chain Amyloidosis
Haiyan He, Jin Liu, Hua Jiang, Juan Du, Lu Li, Jing Lu, Weijun Fu
J. Cancer 2019; 10(23): 5622-5627. doi:10.7150/jca.30345
[Abstract] [Full text] [PDF]
Research Paper
The impact of Adult Comorbidity Evaluation-27 on the clinical outcome of elderly nasopharyngeal carcinoma patients treated with chemoradiotherapy or radiotherapy: a matched cohort analysis
Yue-Feng Wen, Xue-Song Sun, Li Yuan, Li-Si Zeng, Shan-Shan Guo, Li-Ting Liu, Chao Lin, Hao-Jun Xie, Sai-Lan Liu, Xiao-Yun Li, Yi-Bin Zhang, Wen-Jin Huang, Hai-Hua Peng, Zhi-Wei Liao, Xian-Lu Song, Qing-Nan Tang, Yu-Jing Liang, Jin-Jie Yan, Jin-Hao Yang, Zhen-Chong Yang, Qiu-Yan Chen, Xiao-Dan Lin, Lin-Quan Tang, Hai-Qiang Mai
J. Cancer 2019; 10(23): 5614-5621. doi:10.7150/jca.35311
[Abstract] [Full text] [PDF]
Research Paper
Risk factors for progression to castration-resistant prostate cancer in metastatic prostate cancer patients
Ting-Ting Lin, Ye-Hui Chen, Yu-Peng Wu, Shao-Zhan Chen, Xiao-Dong Li, Yun-Zhi Lin, Shao-Hao Chen, Qing-Shui Zheng, Yong Wei, Ning Xu, Xue-Yi Xue
J. Cancer 2019; 10(22): 5608-5613. doi:10.7150/jca.30731
[Abstract] [Full text] [PDF]
Research Paper
Role of Kruppel-Like Factor 5 in Deoxycholic Acid-Mediated Intestinal Transdifferentiation of Esophageal Squamous Epithelium
Yiju Xia, Yu Fang, Haoxiang Zhang, Caifei Shen, Pu Wang, Wu Yan, Jingwen Li, Yin Xu, Shunzi Shao, Yafei Zhang, Xiaona Yu, Zhihong Peng, Guiyong Peng, Wensheng Chen, Dianchun Fang
J. Cancer 2019; 10(22): 5597-5607. doi:10.7150/jca.30050
[Abstract] [Full text] [PDF]
Research Paper
Comprehensive investigation of alternative splicing and development of a prognostic risk score for prostate cancer based on six-gene signatures
Zhe-Xu Cao, Guang-An Xiao, Wei Zhang, Jin Ji, Chen Ye, Dan Liu, Qin-Qin Tian, Ying-Hao Sun Prof
J. Cancer 2019; 10(22): 5585-5596. doi:10.7150/jca.31725
[Abstract] [Full text] [PDF]
Research Paper
Prognostic Value and Predication Model of Microvascular Invasion in Patients with Intrahepatic Cholangiocarcinoma
Zheng Tang, Wei-Ren Liu, Pei-Yun Zhou, Zhen-Bin Ding, Xi-Fei Jiang, Han Wang, Meng-Xin Tian, Chen-Yang Tao, Yuan Fang, Wei-Feng Qu, Zhi Dai, Shuang-Jian Qiu, Jian Zhou, Jia Fan, Ying-Hong Shi
J. Cancer 2019; 10(22): 5575-5584. doi:10.7150/jca.32199
[Abstract] [Full text] [PDF]
Research Paper
Comparative safety and effectiveness of ultrasound-guided radiofrequency ablation combined with preoperative three-dimensional reconstruction versus surgical resection for solitary hepatocellular carcinoma of 3-5 cm
Yuanfeng Gong, Yunqiang Tang, Yan Geng, Yu Zhou, Min Yu, Bowen Huang, Zhonghai Sun, Hui Tang, Zhixiang Jian, Baohua Hou
J. Cancer 2019; 10(22): 5568-5574. doi:10.7150/jca.32342
[Abstract] [Full text] [PDF]