Editors-in-Chief:
Yan-Gao Man, MD., PhD., Co-Director, Laboratory of Proteomics and Protein Sciences, Veterans Affair Health System, Baltimore, MD, USA
Naoto T. Ueno, MD., PhD., Professor of Medicine, University of Texas MD Anderson Cancer Center
Editors-in-Chief Profile

Oncomedicine now accepts submissions.
Impact factor is 2.916 according to the 2017 release of Journal Citation Reports. More ...
Indexed in SCI Expanded, PubMed and full texts in PubMed Central and Europe PMC.
High visibility of articles over the Internet.
Cover suggestion ...details
Top cited papers:
Inhaled therapy for lung cancer is a local form of treatment. Currently inhaled non-specific cytotoxic agents have been evaluated as a future treatment for local disease control and distant metastasis control. There are few information regarding the influence of local transporters and gene expression of the respiratory epithelium to the absorption of administered drugs. In the current work we used adenoviral-type 5(dE1/E3) (Cytomegalovirus promoter) with human ABCA10 transgene (Ad-h-ABCA10) purchased from Vector Labs® in order to investigate whether gene therapy can be used as a pre-treatment to enhance the efficiency of inhaled cisplatin. More ...
Background: Expression of programmed death ligand (PD-L1/B7-H1/CD274) represents a mechanism of immune escape for renal cell carcinoma (RCC) cells. Drugs blocking PD-L1 or its receptor are in clinical development and early data suggests that tumor PD-L1 expression may predict response. Patients and Methods: A tissue microarray (TMA) consisting of four biopsy cores from 34 matched pairs of nephrectomy and metastatic sites of clear cell RCC was used to assess PD-L1 expression by quantitative immunofluorescence. Assessment of intra- and inter-tumor heterogeneity and primary and metastatic tumor expression was performed using a method of Automated Quantitative Analysis (AQUA). More ...
Background: Infections of teeth are highly prevalent, often leading to tooth extractions. Missing teeth can thus be considered as proxy for chronic dental infections, caries or periodontitis. We followed-up a cohort for 24 years investigating the association between missing teeth and the incidence of cancer with the hypothesis that dental chronic inflammation links to cancer. Methods: WHO ICD-7-9-10 malignant diagnoses were recorded from the Swedish Cancer Registry from 1985 to 2009 in 1 390 individuals who had underwent clinical oral examination in 1985. The subjects appeared periodontally healthy and thus the probable reason for tooth extractions was deep caries. More ...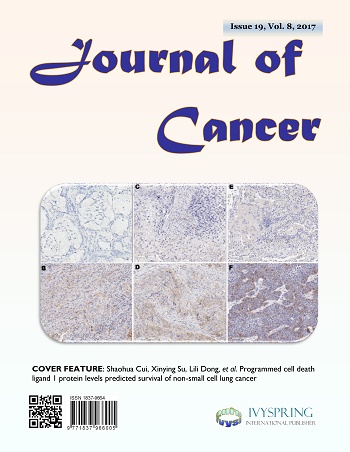 Research Paper
Folic acid-modified diatrizoic acid-linked dendrimer-entrapped gold nanoparticles enable targeted CT imaging of human cervical cancer
Jiaying Lin, Weiwei Hu, Fengli Gao, Jinbao Qin, Chen Peng, Xinwu Lu
J. Cancer 2018; 9(3): 564-577. doi:10.7150/jca.19786
[Abstract] [Full text] [PDF]
Research Paper
The prognostic value of Niemann-Pick C1-like protein 1 and Niemann-Pick disease type C2 in hepatocellular carcinoma
Ke-Ji Chen, Ri-Ming Jin, Chun-Chao Shi, Rui-Liang Ge, Lei Hu, Qi-Fei Zou, Quan-Yu Cai, Guang-Zhi Jin, Kui Wang
J. Cancer 2018; 9(3): 556-563. doi:10.7150/jca.19996
[Abstract] [Full text] [PDF]
Research Paper
Clinical study on the prevalence and comparative analysis of metabolic syndrome and its components among Chinese breast cancer women and control population
Yu-tuan Wu, Qing-qing Luo, Xin Li, Bilal Arshad, Zhou Xu, Liang Ran, Chun-xia Zhao, He Wu, Yan-ling Shi, Hao-ran Chen, Hao Li, Hong-yuan Li, Kai-nan Wu, Ling-quan Kong
J. Cancer 2018; 9(3): 548-555. doi:10.7150/jca.22968
[Abstract] [Full text] [PDF]
Research Paper
Association between NEFL Gene Polymorphisms and Neuroblastoma Risk in Chinese Children: A Two-Center Case-Control Study
Qiang Wu, Zhen-Jian Zhuo, Jixiao Zeng, Jiao Zhang, Jinhong Zhu, Yan Zou, Ruizhong Zhang, Tianyou Yang, Deli Zhu, Jing He, Huimin Xia
J. Cancer 2018; 9(3): 535-539. doi:10.7150/jca.22681
[Abstract] [Full text] [PDF]
Research Paper
Impact of Weight Loss at Presentation on Survival in Epidermal Growth Factor Receptor Tyrosine Kinase Inhibitors (EGFR-TKI) Sensitive Mutant Advanced Non-small Cell Lung Cancer (NSCLC) Treated with First-line EGFR-TKI
Liping Lin, Juanjuan Zhao, Jiazhu Hu, Fuxi Huang, Jianjun Han, Yan He, Xiaolong Cao
J. Cancer 2018; 9(3): 528-534. doi:10.7150/jca.22378
[Abstract] [Full text] [PDF]
Review
Overexpression of MICAL2, a novel tumor-promoting factor, accelerates tumor progression through regulating cell proliferation and EMT
Yongqiang Cai, Jinping Lu, Faqing Tang
J. Cancer 2018; 9(3): 521-527. doi:10.7150/jca.22355
[Abstract] [Full text] [PDF]
Research Paper
Elevated baseline serum lactate dehydrogenase indicates a poor prognosis in primary duodenum adenocarcinoma patients
Zhan-hong Chen, Miao-zhen Qiu, Xiang-yuan Wu, Qi-nian Wu, Jia-huan Lu, Zhao-lei Zeng, Yun Wang, Xiao-li Wei, Feng Wang, Rui-hua Xu
J. Cancer 2018; 9(3): 512-520. doi:10.7150/jca.22305
[Abstract] [Full text] [PDF]
Research Paper
Recombinant nanocomposites by the clinical drugs of Abraxane® and Herceptin® as sequentially dual-targeting therapeutics for breast cancer
Shuang Ding, Jian Xiong, Dan Lei, Xiao-li Zhu, Hai-jun Zhang
J. Cancer 2018; 9(3): 502-511. doi:10.7150/jca.22163
[Abstract] [Full text] [PDF]
Research Paper
Clinical significance and diagnostic capacity of serum TK1, CEA, CA 19-9 and CA 72-4 levels in gastric and colorectal cancer patients
Shufang Ning, Wene Wei, Jilin Li, Bingbing Hou, Jianhong Zhong, Yuxuan Xie, Haizhou Liu, Xianwei Mo, Jiansi Chen, Litu Zhang
J. Cancer 2018; 9(3): 494-501. doi:10.7150/jca.21562
[Abstract] [Full text] [PDF]
Research Paper
Influence of diabetes on the risk of urothelial cancer according to body mass index: a 10-year nationwide population-based observational study
Woong Jin Bae, Jin Bong Choi, Hyong Woo Moon, Young Hyun Park, Hyuk Jin Cho, Sung-Hoo Hong, Ji Youl Lee, Sae Woong Kim, Kyung-Do Han, U-Syn Ha
J. Cancer 2018; 9(3): 488-493. doi:10.7150/jca.22107
[Abstract] [Full text] [PDF]
Research Paper
Clinicopathological Characteristics of the primary and metastatic Hepatic Neuroendocrine Tumors and the relevant Prognosis-Related Factors: A Retrospective Study of 81 Cases in a Single Chinese Center
Yang Lv, Cheng Huang, Haizhou Xu, Xu Han, Lei Zhang, Weilin Mao, Yuan Ji, Dayong Jin, Wenhui Lou, Xuefeng Xu
J. Cancer 2018; 9(3): 479-487. doi:10.7150/jca.22157
[Abstract] [Full text] [PDF]
Research Paper
Exploration of Racial Differences in Reproductive Factors for Breast Cancer among Women aged 55-74
Chuanbo Xie, Nan Shao, Longjun He, Xiuhong Li, Cong Li, Jibin Li, Dongfang Su
J. Cancer 2018; 9(3): 469-478. doi:10.7150/jca.22869
[Abstract] [Full text] [PDF]
Research Paper
MK2 and ETV1 Are Prognostic Factors in Esophageal Adenocarcinomas
Gerd Jomrich, Florian Maroske, Jasmin Stieger, Matthias Preusser, Aysegül Ilhan-Mutlu, Daniel Winkler, Ivan Kristo, Matthias Paireder, Sebastian Friedrich Schoppmann
J. Cancer 2018; 9(3): 460-468. doi:10.7150/jca.22310
[Abstract] [Full text] [PDF]
Research Paper
The Unknown microRNA Expression of Male Breast Cancer. Similarities and Differences with Female Ductal Carcinoma. Their Role as Tumor Biomarker
Maria J Merino, Sara Gil, Carmen Garcia Macias, Karlena Lara
J. Cancer 2018; 9(3): 450-459. doi:10.7150/jca.23151
[Abstract] [Full text] [PDF]
Research Paper
In Vivo Double Targeting of C26 Colon Carcinoma Cells and Microenvironmental Protumor Processes Using Liposomal Simvastatin
Lavinia Luput, Emilia Licarete, Denise Minerva Drotar, Andras-Laszlo Nagy, Alina Sesarman, Laura Patras, Valentin Florian Rauca, Alina Porfire, Dana Muntean, Marcela Achim, Ioan Tomuta, Laurian Vlase, Cornel Catoi, Nicolae Dragos, Manuela Banciu
J. Cancer 2018; 9(2): 440-449. doi:10.7150/jca.21560
[Abstract] [Full text] [PDF] [PubMed] [PMC]
Research Paper
Prophylactic cranial irradiation in resected small cell lung cancer: A systematic review with meta-analysis
Yang Yang, Danhong Zhang, Xia Zhou, Wuan Bao, Yonglin Ji, Liming Sheng, Lei Cheng, Ying Chen, Xianghui Du, Guoqin Qiu
J. Cancer 2018; 9(2): 433-439. doi:10.7150/jca.21465
[Abstract] [Full text] [PDF] [PubMed] [PMC]